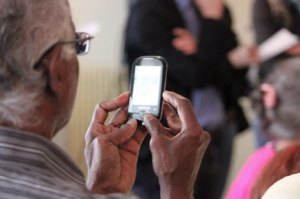 Article by Katybeth Dee of SelfExam.org
Growing older is a blessing, and today's seniors have more tools at hand to make aging easier than ever before. Pew Research notes almost everyone has a smartphone in their pocket and a computer or tablet at home. It only makes sense that seniors should put tech to work in their lives so they can enjoy better health.
Stay Fit
When you don't move around as well as you used to, technology can lend a hand to make exercising easier. You can use fitness trackers to keep an eye on progress, and instead of heading outside in bad weather or on uneven pavement, video games can be used for the same results. 
Games like Wii Fit, Wii Sports, and Nike+ Kinect Training all use motion-capture technology so you can participate in a multitude of different exercises and games to get your blood flowing in your own living room. Find the one that's right for you, and you'll be on your way to a healthier life. 
Health-Tracking Apps
If you're one of the few people left who don't have a smartphone yet, it's time to get on board. There are an infinite number of apps you can download aimed toward helping you track your daily health and exercise. 
For instance, Stress Check is an app that can measure your heart rate when you place your finger on your phone's camera, and it stores the info for your future reference. Most local pharmacies have their own apps that make ordering refills and getting deliveries simpler than ever. MyFitnessPal lets you record your daily eating habits with calorie counts and daily goals to monitor your weight and overall health.
If your current phone isn't handling new apps efficiently, or if you are simply ready to buy your first smartphone, look for a new phone that will fit your budget, and for a data plan that allows you to avoid overage charges. 
The Samsung Galaxy S10 is an excellent option, with its fast processing power and plenty of storage for all of your apps, and it's water resistant so you won't be worried about spills or sweat when you work out. For those who prefer an Apple product, Tom's Guide points out the newest iPhones have several features that will make it easy to use your apps, like a large display, water resistance, and long battery life.
Smart Home Devices
Never before have we had as much control over our lives with as little effort as we do now. Dwell explains that with smart home devices like the Amazon Echo and the Google Home, we can do many things with just our voice. For example, you can simply tell Alexa to remind you about taking your medication, find out if the weather is agreeable for walking, or ask her to report the latest health care news. The possibilities are nearly endless!
Address Health Care Needs
Smart home devices are great for setting reminders for yourself so you'll never forget the little things. Something you won't want to forget to do is review your coverage during Medicare Open Enrollment, going on from October 15th through December 7th. During this period, you can adjust your coverage from Original to Medicare Advantage or Medicare Part D. If you don't need to make any changes to your coverage, then don't sweat it! Your current plan will auto-renew.
No matter what level of technological knowledge you possess, there's always room for more. Take advantage of the simplicity and convenience technology can add to your life and how it can help you keep an eye on your health and well-being. Utilize apps on your smartphone and digital assistants to make life as easy as possible, double-check your Medicare coverage in case something happens next year, and try out a few fitness video games to keep you moving. Growing older will be an even bigger blessing, thanks to the tech you add to your life!